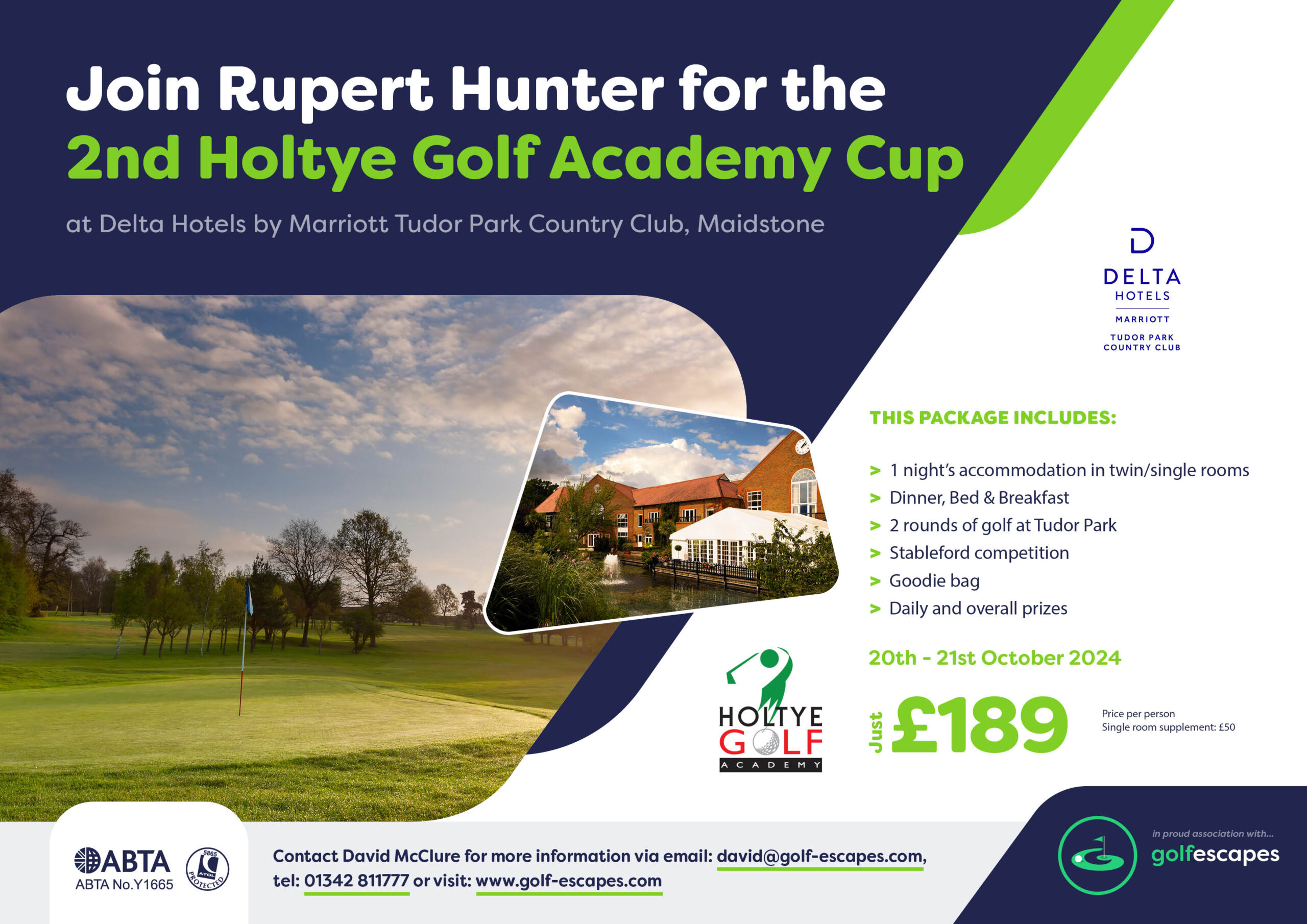 The second playing of the Holtye Golf Academy Cup will be held at Delta Hotels by Marriott Tudor Park Country Club, Maidstone, Kent on 2oth/21st October 2024.
One night's accommodation will be at the on-site hotel that includes dinner, bed & breakfast plus two rounds of golf.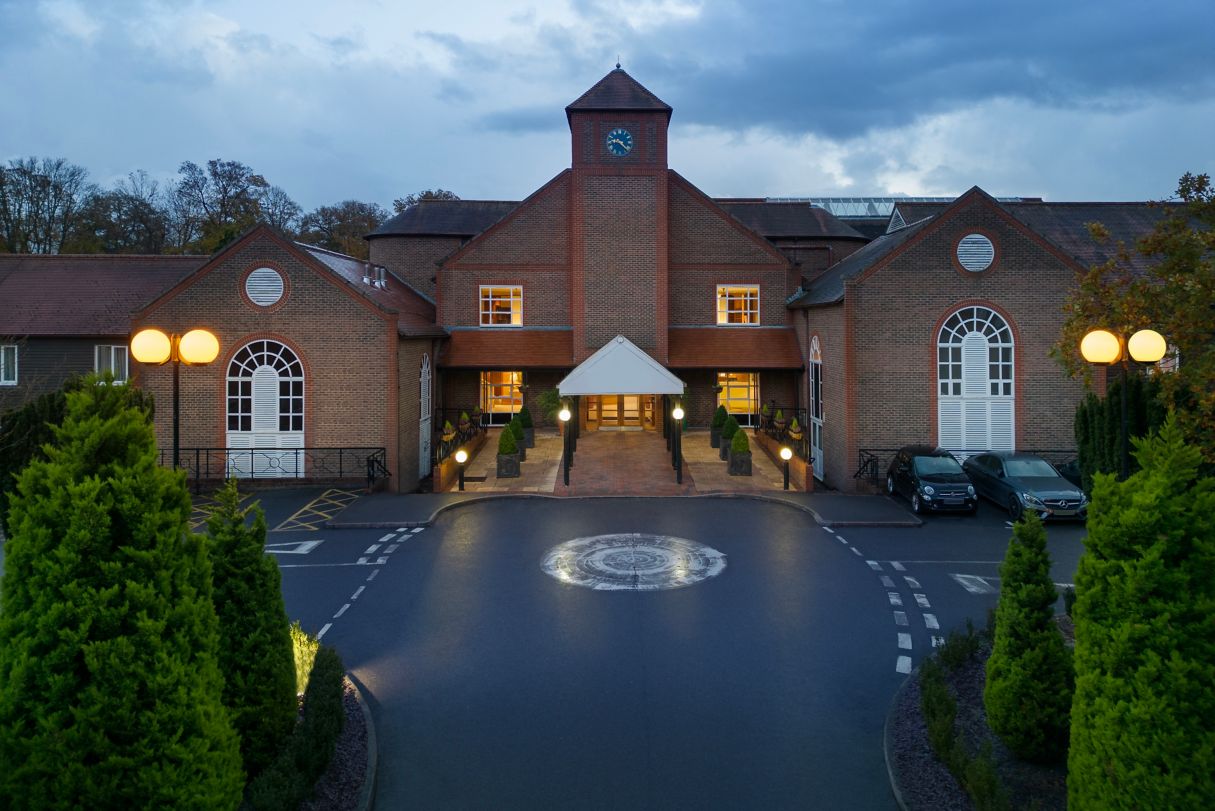 Prizes and Format
An excellent table of prizes will be competed for that include daily winner(s), place prizes, nearest the pin.
The competition is based on a stableford format with 100% handicap allowance (WHS) and the Holtye Academy Cup will be won by the player with the highest two round points total over the two days play with a WHS handicap.
Golfer's yet to obtain an official WHS handicap are MOST welcome and encouraged to play as a secondary event for non handicap players will run alongside the Holtye Golf Academy Cup competition.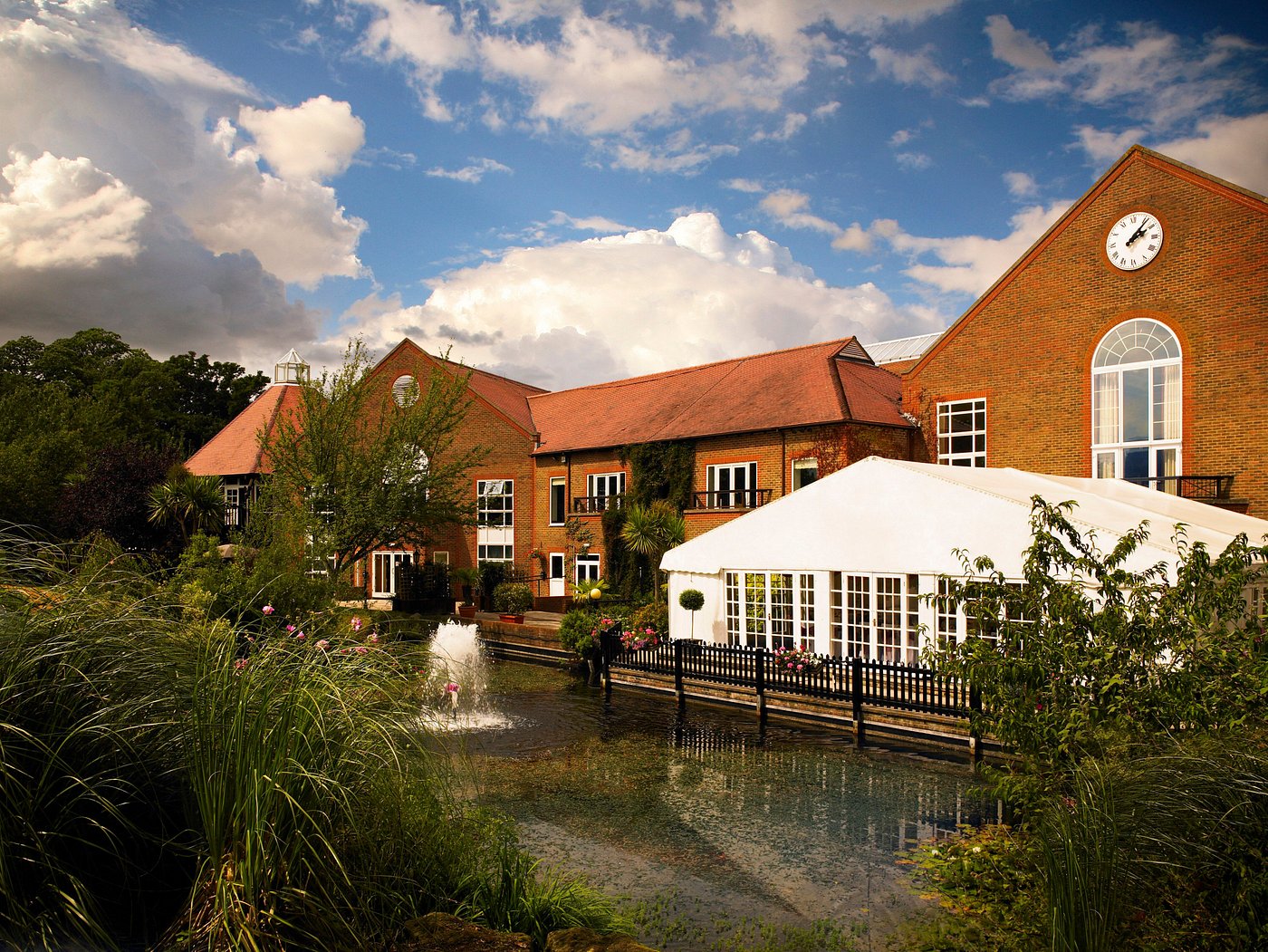 Useful Information:
To book your place please contact rupert@holtyegolfacademy.co.uk
A £100 deposit (payable to Golf Escapes Ltd – our travel partner) is required with the balance due by 2oth August 2024
Staying in a twin room £189.00
Single Room supplement £50.00
Please let Rupert know if you require any rental equipment reserved (electric trolley, pull trolley, golf buggy) in advance (not included & subject to availability)
Itinerary:
20th October 2024
Arrive Tudor Park
Registration
18 holes @ Tudor Park – First tee time 11:00 am
3 x Course Evening dinner
21st October 2024
Breakfast
18 holes @ Tudor Park – First tee time 11:00 am
Prize presentation
Close & Depart
Read through the report below following the playing of the 1st Holtye Academy Cup, 22nd/23rd October 2023 with leading scores and reviews:
Following the aftermath of "Storm Babet" that brought with it torrential rain, it was relief that we were blessed with fantastic weather for first round of the inaugural playing of the Holtye Golf Academy Cup. Sixteen golfers, in five groups, teed off in the afternoon sunshine for round one of the two day event. Tournament host, Rupert Hunter, was on hand acting as official starter, course referee and scorecard marker!
Groups:
Group 1 – Paul Petty, Bob Short, Mike Colenutt, Steve Halliday
Group 2 – Ian Burroughs, David Gregory, Roger Nunn
Group 3 – Grant Whiskin, Julian Price, Richard Landholt
Group 4 – Lesley Baughan, Juliet Downey, Nikki Pope
Group 5 – Jennie Collins, Jane Stacey, Matt Collins
Following the completion of the first day's play, Jennie Collins held the lead with 42 points from a chasing pack that included David Gregory (40pts) Lesley Baughan (37pts) and Roger Nunn (36pts)
One of the highlights of a memorable day of golf had to be a brilliant Hole in One on the Par 3 10th hole (161 yards) at Delta Hotels by Marriott Tudor Park Country Club by Nikki Pope (pictured below)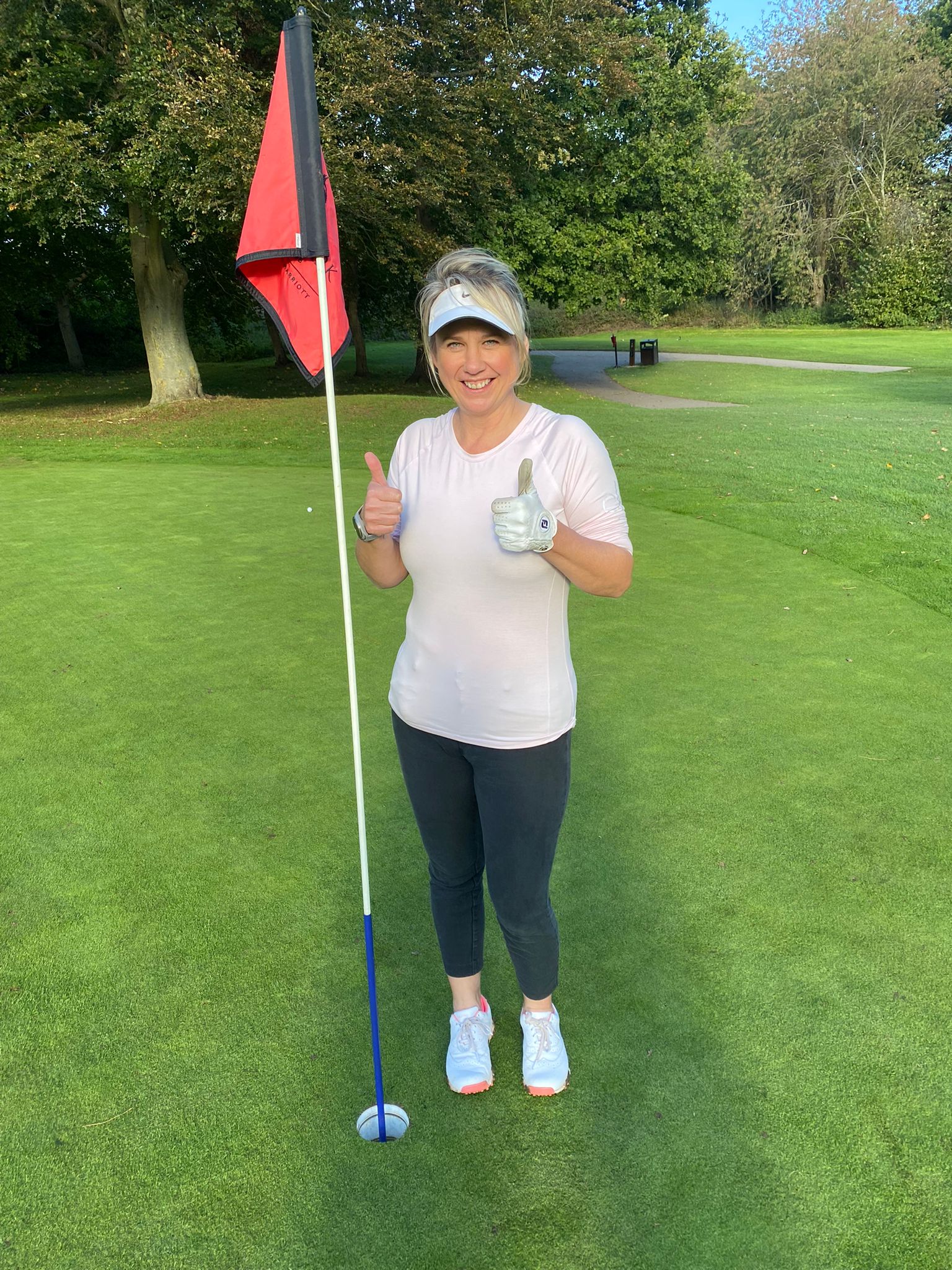 Following a delicious, three course evening dinner and a hearty breakfast, play resumed the following day in slightly cooler, autumnal conditions but still extremely pleasant for the time of year.
It was a day of excellent scoring with 11 players returning cards of 30 stableford points or more. One such notable round was played by Paul Petty (Captain elect of Holtye Golf Club for 2024) who roared back into contention with a blistering back nine of 24 points!
But eventually it was Jennie Collins who prevailed and held on to be the overall winner of the inaugural Holtye Golf Academy Cup by backing up her impressive first round (42pts) with another superb round of golf with a second round of 41 points for a two round tally of 83 points.
Results:
Day 1:
Nearest the pin – 7th hole – Julian Price
Nearest the pin – 10th hole – Nikki Pope (Hole in One!)
Winner – Jennie Collins (42pts)
2nd Place – David Gregory (40pts)
3rd Place – Lesley Baughan (37pts)
4th Place – Roger Nunn (36pts)
Non Handicap Winner – Matt Collins (38pts)
Day 2:
Nearest the pin – 7th hole – Mike Colenutt
Nearest the pin – 10th hole – Paul Petty
Winner – Jennie Collins (41pts)
2nd Place – Richard Landholt (39pts)
3rd Place – Paul Petty (38pts) on count back from Bob Short (38pts) David Gregory (38pts)
Non Handicap Winner – Matt Collins (41pts)
Overall:
Winner – Jennie Collins (83pts)
2nd Place – David Gregory (78pts)
3rd Place – Richard Landholt (74pts) on count back from Lesley Baughan (74pts)
Non Handicap Overall Winner – Matt Collins (79pts)
Reviews:
"Thank you Rupert for a wonderful time which was enjoyed by all" – L.B
"Thanks Rupert for putting on such a great event" – J.D
"Thanks Rupert, well organised and enjoyable" – S.H
"Thank you Rupert, great fun, super enjoyable event and all great company" – J.C
"Thank you Rupert. A very enjoyable couple of days. Well done" – M.C
"Thanks Rupert. A great success!" – J.P
"Thanks Rupert. A lot of work well done" – M.C
"Thanks Rupert" – N.P
"Thank you so much Rupert. I thoroughly enjoyed my golfing break!" – J.S